Boo Carre Halloween Haunt returns to the French Market on October 23rd!
October 20, 2021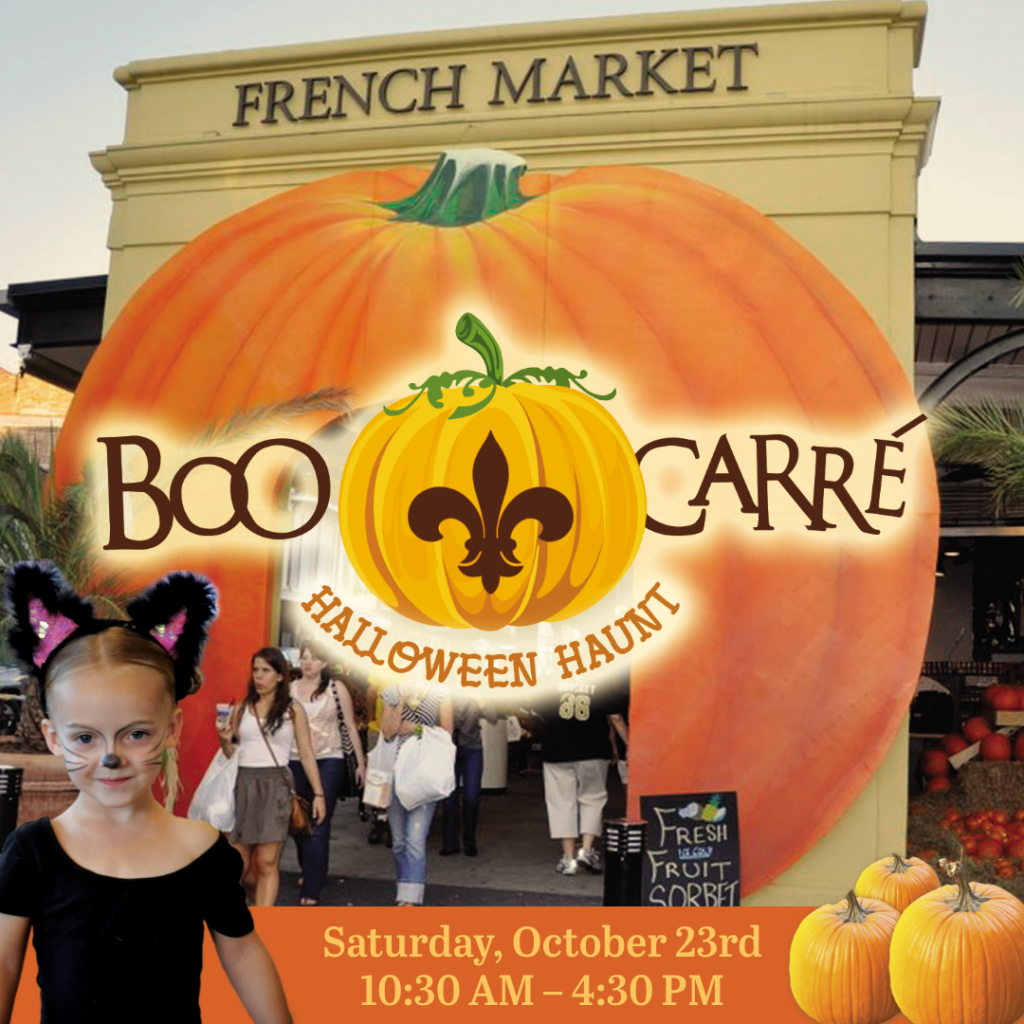 Boo Y'all!
Come spend a fun-filled day in the French Market on Saturday, October 23 at this year's Boo Carre Halloween Haunt. The French Market District is excited to present this popular fall event featuring live music, kid's activities and trick-or-treating. Free and open to the public, Boo Carre takes place from 10:30 a.m. – 4:30 p.m.
New Orleans is an ideal city for celebrating Halloween with its storied history that embraces ghosts, vampires, witchcraft and many other things that go bump in the night. Boo Carre Halloween Haunt brings a family-friendly experience that begins in Dutch Alley, between Dumaine and St. Phillip Streets. To help you get into the spirit of things, kids of all ages are encouraged to come in costume. Children in costume receive a complimentary trick-or-treating bag at the info booth in Dutch Alley in the 900 block of N. Peters while supplies last.
Take the youngsters trick-or-treating for candy in The French Market District while you can find some amazing sales at the participating shops of the colonnade and Upper Pontalba, as well as vendors in the Farmers and Flea Markets. Look for the orange balloons designating these vendors, but you may also find a listing online at www.frenchmarket.org. If you get hungry, grab a bite at one of the participating restaurants such as Gazebo Cafe, Corner Oyster Bar, Alberto's Wine & Cheese Bistro, Holy Crepes, Meals From the Heart Cafe and N'awlins Café & Spice Emporium.
There will be plenty of kids' activities in Dutch Alley from photo opportunities, art projects, a petting zoo and the entire event culminates with the Spooky Second Line at 3:15 p.m.  Our vendors for these activities include Adorn Me Antoinette, The Button Lady, ArtCamp504 and Rowdy's Rascals Petting Zoo. 
And no party in the city would be complete without live music. Starting at 10:30 a.m. outdoors at the Dutch Alley Performance Pavilion, our schedule includes Bamzy Baby Productions, National Park Service Arrowhead Jazz Band, Young Pin Stripe Brass Band, Johnette Downing and One Shot Brass Band and the Spooky Second Line. Bring the entire family to Boo Carre Halloween Haunt and stay after our event to catch the Krewe of BOO! New Orleans' Official Halloween Parade starts at 6:30 p.m. and passes goes through the French Market District.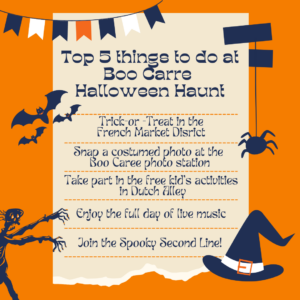 ← Back to Blog